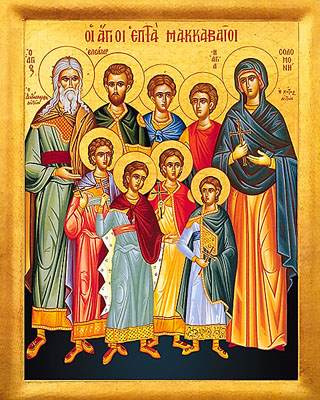 Icon depicting the Seven Holy Machabees in the company of Our Blessed Lord and of Our Lady
The Seven Holy Machabees occupy an interesting position in the Church Triumphant, having suffered martyrdom some 150 years before the birth of Our Lord, and therefore join various Old Testament prophets and patriarchs as effectively pre-Christian Saints, presumably among the first to enter Heaven when Jesus completed His work of redemption. They were righteous Jews who were put to death under Antiochus Epiphanos for refusing to worship the pagan gods whose cult had been imposed on Jerusalem, even to the point of erecting a statue of Zeus in the Jewish Temple.
It would be apt to ask their prayers for peace in the Holy Land, and the wider Middle East at this time, and, recalling how they in a sense represent part of the continuity from Old Testament Judaism to Christianity, ask their care and protection for our Jewish brethren at a time when anti-Semitism is apparently again on the rise in the UK.
Orate pro nobis
Happy Feast!