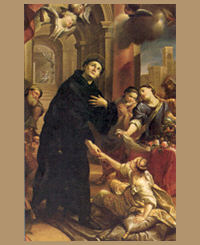 I had not come across St. John of San Facundo, whose Feast Day occurs today
He was born John de Gonzalez in the town of Saint Facundo, near Sahagun , in northern Spain, in the year 1430 . He was by all accounts a brilliant young boy, educated in the household of a bishop. He was Canon of the Cathedral of Borgos, and subsequently became one of the Hermits of Saint Augustine. His devotion to the Blessed Sacrament was so great that he spent every night, from the hour of Matins at midnight, to the hour of Mass in the morning, in adoration of Our Lord in the Blessed Eucharist. He was often privileged in the saying of Mass to see Our Lord visibly in the Blessed Eucharist. Our Lord favoured him with gifts as a peace-maker through his powerful preaching. Saint John of Saint Facundo is the patron saint of Salamanca in Spain. He died 1n 1479.
Having recently celebrated the Feast of Corpus Christi, it is apt that we recall a Saint who experienced Eucharistic Miracles. Perhaps it is also apt to ask his prayers for peace at this time when there is so much discord and war in the world.
Ora pro nobis.